What's up peeps..I hope you're well. It seems where ever you turn today there's always some tragedy occurring. Please take a moment and thank whoever you get down with for the little things in life.
So..this was supposed to be the start of my daily sketch blogs but I forgot one tiny detail-- the fact that I'm an art whore who has rented out my drawing hand to others resulting in many things to shamelessly plug.
Case in point, the upcoming Marvel Vs Capcom Tournament taking place next Tuesday, March 22nd from 7-11pm at Steaks On South. Located @ 308 Sth St. I'll be there selling prints and doing sketches so stop through.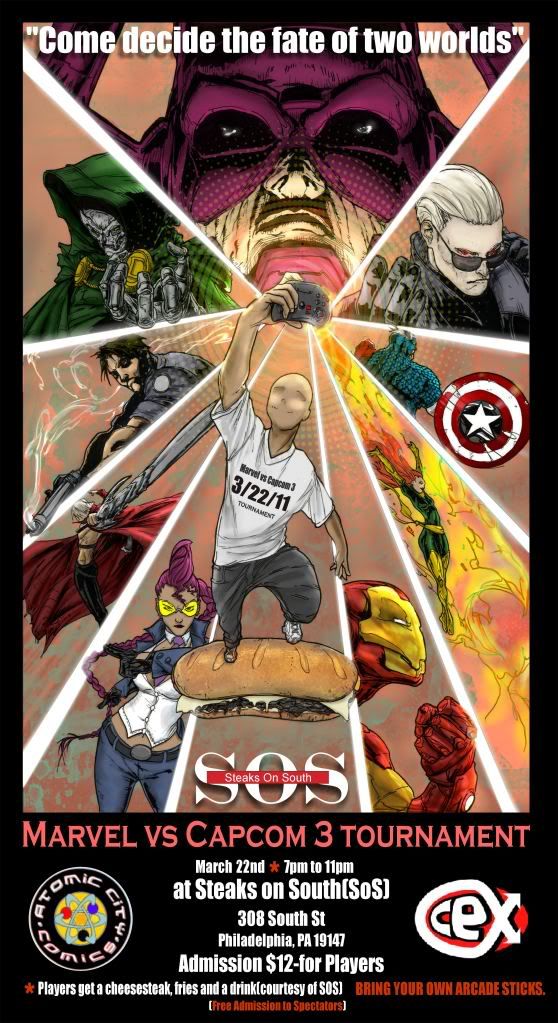 From top left: Doc Doom, Galactus, Albert Wesker, Captain America, Dark Phoenix, Iron Man, Random-kid-supposed-to-represent-the-player-standing-on-a-cheesesteak-I-was-told-to-put-there-but-didn't-want-to, Crimson Viper, Dante and Chris Redfield.
Colors by modern day renaissance man Blair Smith.
Oh, and yes, before I receive any comments and critiques, the player's face is supposed to be blank so as to allow the viewer to project their identity on to it. Believe it or not there's usually a method to my madness.
Enjoy your day and God willing, catch you tomorrow.
Shawn
aka Shiz